Work on the leaky waterway in Wesbrook Place is progressing, but sporadically.
That's according to residents whose homes overlook the pond in Mundell Park.
Work has concentrated on the western portion of the pond where a pond liner has been installed. The eastern part of the pond, however, remains untouched so it is not clear if a liner will be installed there.
Some work has also been underway on the portion of the channel along Webber Lane between Gray Avenue and Ross Drive.
Water and rocks that had been removed during the summer were back in the section of the waterway running parallel to Webber Lane between Mundell Park and Gray Avenue. That came after a water test that occurred before Neighbour's Day on Sept. 9.
There have been no public updates since Aug. 8. UBC's Campus and Community Planning and UBC Properties Trust, the university's property development arm, were contacted for an update but declined to comment.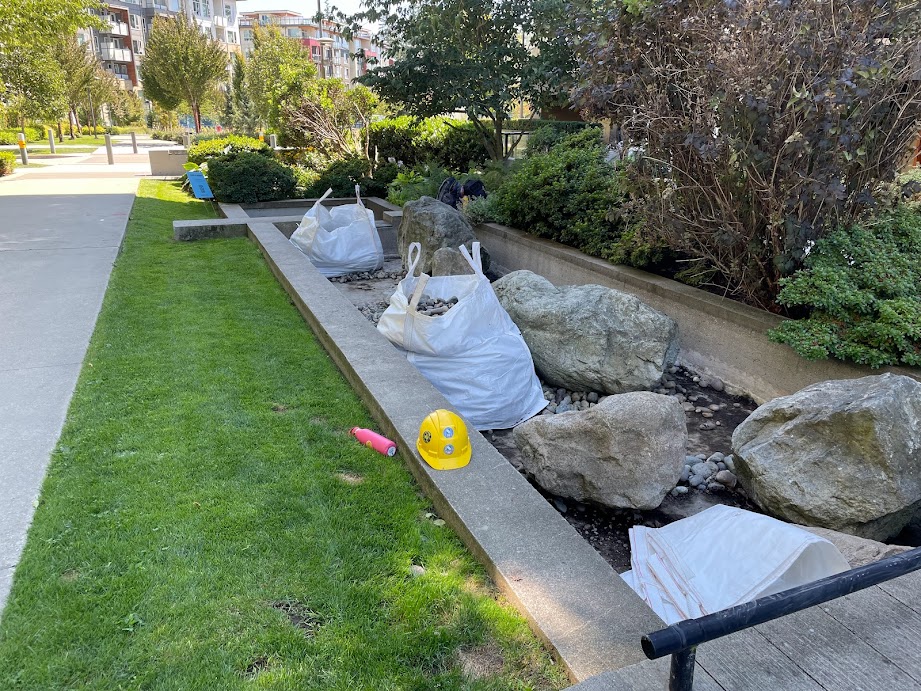 It is not clear whether work will be completed before the rainy weather fully sets in. So far, UBC Properties Trust, which is responsible for repairs of the waterway, hasn't responded to questions from The Campus Resident.
When asked for comment, UNA operations manager Wegland Sit said repairs were expected to be completed in mid-October.
Upon completed and confirmation that the repairs have been carried out in good order, the waterway will be transferred to the UNA, which will assume management.
ROBYN STARKEY IS A WESBROOK PLACE RESIDENT AND A MEMBER OF THE CAMPUS RESIDENT NEWSPAPER EDITORIAL COMMITTEE.