Signs around campus, in Pacific Spirit Regional Park, and as far away as Camosun Bog all note the presence of coyotes.
"My perception is that coyotes are more active and present in our area at the moment than I remember," says Matthew Evenden, a resident of Chancellor Place.
He's been walking his dog in the neighbourhood and in Pacific Spirit Regional Park, and has seen coyotes on maybe eight occasions, "usually at a distance and mostly with no risk."
Dezirae Barreto, the urban wildlife programs coordinator at the Stanley Park Ecological Society, told The Campus Resident that the society has a program on coexisting with coyotes and a coyote sightings map. However, it doesn't have a specific program covering UBC campus or the University Endowment Lands.
Barreto did confirm that coyote activity may increase at this time of year. "In the early fall, pups that were born in the spring begin hunting independently," she says. "These behavioural changes and shifts in activity can help potentially explain the increase in human sightings."
Barreto also explained why coyotes may be seen near homes, and it's all about food.
"Coyotes most often choose to eat rodents such as mice, rats, and voles, however, they are also opportunistically omnivorous. Coyotes will eat blackberries and other plant-based materials in their natural environment. In the summer and fall, coyotes may be attracted to fallen fruit and ripening crops. Rodents may also be attracted to the same food sources, and coyotes may also come into those spaces to hunt rodents as well."
Collecting fallen and ripe produce, keeping garden plots clean, and maintaining wildlife-proof fence are good strategies to keep coyotes away, she says.
Coming across a coyote on a walk can be startling. Evenden says he's had two encounters in the past two months during morning walks. "On both occasions, I heard something, turned around and found a coyote within three metres, stalking me and my small dog. I hurriedly picked up my dog, waved an arm and shouted. The coyote backed off on the first occasion; on the second, it backed off then approached again. I had to really holler before it reversed course this second time."
Baretto says Evenden did just what he should have done.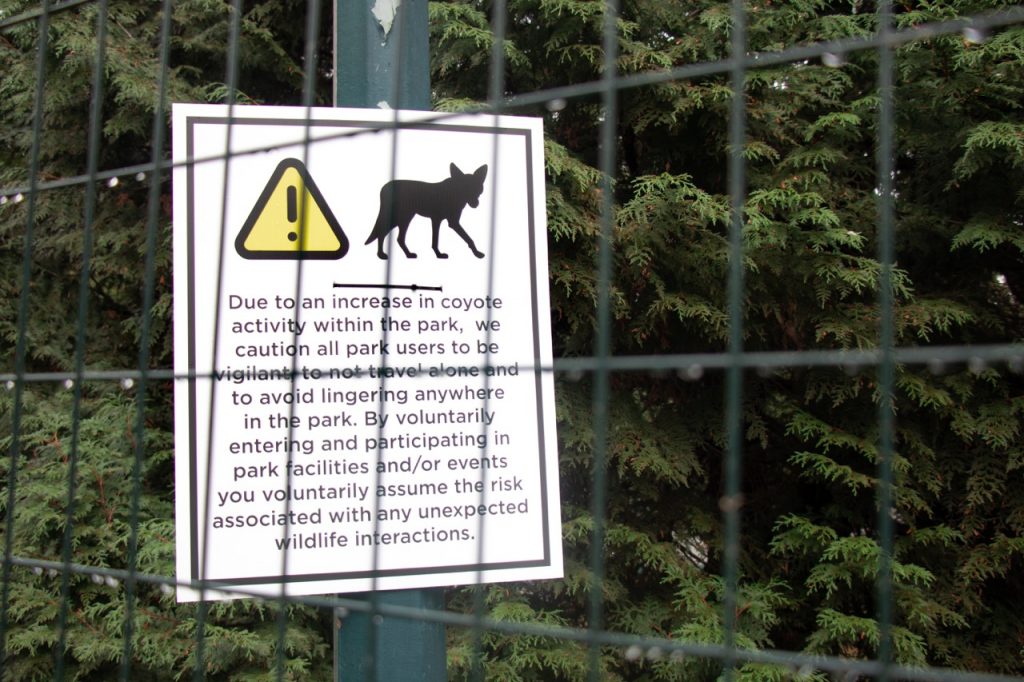 "Running away from a coyote, you may accidentally trigger the coyote's chase instinct and escalate the situation." Shouting at the coyote should reinforce its fear of humans, which is a key part of coexisting successfully in the urban landscape.
Many people on campus lands are familiar with Kip the coyote, who has a limp from a damaged back leg. Kip is most commonly seen by riders on the 68 bus, as its range is generally on the western edge of campus, from Hampton Place along West Mall and Marine Drive.
Kip has a keen following online and on social media, which has been controversial to coyotes. Additionally, wildlife researchers have concerns because animals in the public eye may become habituated to humans.
Reporting coyote sightings can help with research and monitoring that support coexistence. If you do encounter a coyote, you can report it on the Stanley Park Ecology website.
ROBYN STARKEY IS A WESBROOK PLACE RESIDENT AND A MEMBER OF THE CAMPUS RESIDENT NEWSPAPER EDITORIAL COMMITTEE.
Resources:
Report coyote sightings:
https://stanleyparkecology.ca/ecology/co-existing-with-coyotes/report-a-sighting/
UBC: Learning to coexist with urban wildlife:
https://www.landfood.ubc.ca/learning-to-coexist-with-urban-wildlife/